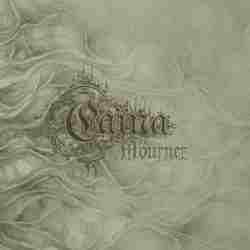 Mourner is a really excellent journey through varied sounds and places. Waves Engulf a Pier starts the album off like an intellectual decompression chamber - extended dissonance and blasts of noise slowly build and relax after some analog glitches into soft piano that would fit beautifully into one of Eno's ambient records. Hideous Gnosis pulls the listener down into Caina's aching, immersive post-black metal strains, mixing soft vocals, layered keys, acoustic guitar and drums that, hit heavier, would fit into a heavy doom riff. And soon they do - Andy hasn't entirely abandoned metal sounds with this release, despite the fact that the whole album is much more strongly rooted in other approaches, distortion and growls build into an undeniable climax. A noisy fade leads straight into the oddly lighter chords of The Sleep of Reason, which remains one of the more metal-textured tracks thus far on the album, but least metal in spirit. The Sleep of Reason is an excellent lullaby - in a good way.
Constantine the Blind evokes a new start of folk music, with acoustic guitars and jaw harp blending under lyrics full of references to ancient history and religion, and interesting plays on words. A very meditative tone. As the guitars slowly drop out, Andy transitions into I Reeled In Heaven, which shows a texture completely new to this album and fairly rare in contemporary music. The track begins with multivoice wordless harmony that slowly moves into dark, noisy ambience of layered guitars - something that calls back to the more introspective side of black metal. The rest of the track displays Andy's talents and versatility in the instrumental department, covering soft, clean bits and doom alike.
Morgawr is one of my favorite tracks on the album, with a folky feel executed with more complex chords and passionate vocals. The whole atmosphere transports the listener somehow to the darkness of ancient English shores and a struggle for life amidst dark magic and opposing forces. I'm inclined to believe that the title is a reference to the Cornish seabeast rather than Shannara, but it retains an excellent fantastic spirit in an incredibly personal way. Requiem for Shattered Timber is almost an epic ending to Morgawr that ventures incredibly far away musically, but reaches straight to the heart all the same. Permaneo Carmen is an excellent, more calmly thoughtful piece that again emphasizes Caina's range of textures and strong compositional talent. Wormwood Over Albion is definitely rising out of the darkness of Mourner with a more peaceful and simply beautiful track. And you'll have to listen to the hidden track for yourself . . .
Most albums have a standout track, or perhaps a couple, that I could recommend as a sample to get the feel of the artist's work. Caina's Mourner consists almost entirely of standout tracks, and they're truly outstanding. I highly recommend actually buying a copy of this record. It's unquestionably worth it.